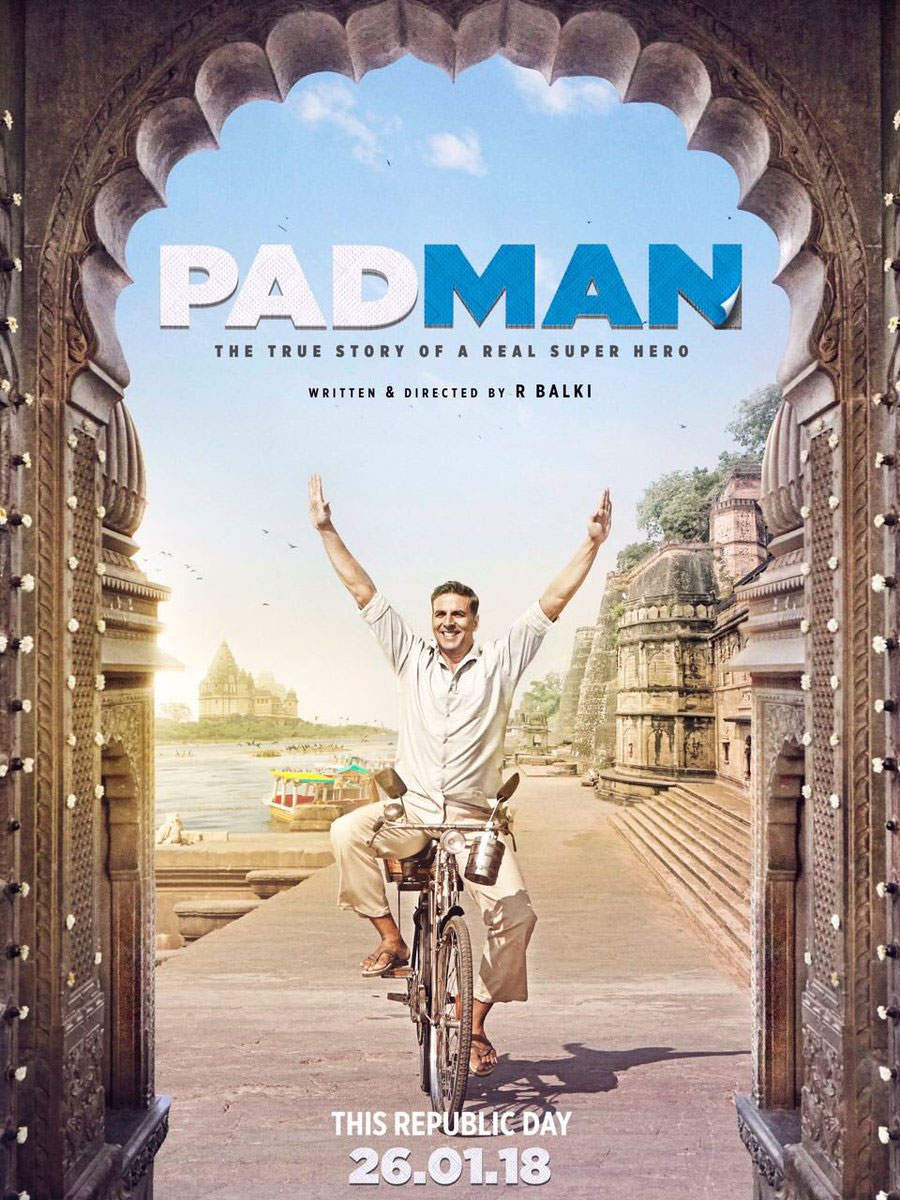 Balki directs Akshay Kumar, Radhika Apte and Sonam Kapoor in Padman, the story based on Padma Shri awardee Arunachalam Muruganantham, the innovator of low-cost sanitary pads.
Balki and Swanand Kirkire base the story on the short story written by Twinkle Khanna the wife of Akshay Kumar and also the producer of the movie. Akshay Kumar plays Lakshmikant Chauhan the eponymous Padman. Lakshmi is newly married and besotted with his wife Gayatri played by Radhika Apte. When she experiences her periods for the first time at her married home, he tries to talk her out of using a dirty rag and get her to use a store bought sanitary pad. She balks at price of it and tries to talk him out of it due to the high price. Lakshmi then embarks upon a quest to prototype his low-cost sanitary pad. The journey that Lakshmi undertakes all the way from being shamed out of his village to delivering a rousing "Linglish" speech at the united nation is fascinating.
Akshay Kumar is fantastic as Lakshmi and brings a level of earnestness that lifts every scene he is in. The opening sequence song "Aaj se Teri" sets up Akshay's character arc where he earnestly tries alleviate every single one of her problems, building a wooden seat for her to sit on his bicycle, a monkey toy onion chopper. He might be lacking in the formal education department but he makes up for that in his inquisitiveness. Radhika Apte plays Gayatri and she couldn't be more of a contrast to Akshay Kumar. She is one note, whiny and overplays the ever silently suffering wife. For almost every scene she is in she is either crying her eyes out or passive aggressively berating Lakshmi for trying to help her. The whole "shame is worse than disease" cudgel she keeps beating over Lakshmi and the audience's head gets really tiresome. Sonam Kapoor who makes an entry in the second half of the movie moves breezily from one scene to another. She is entirely believable as the college student who sees potential in Lakshmi's reinvention of the Pad making machine and immensely likable – no small fete considering her previous work. Amitabh Bachchan who is a permanent fixture in every Balki movie chews up the scenery in the 2 minutes he is on screen. His screen presence is unparalleled and his baritone a calming balm on the frayed nerves after Apte's annoying performance.
The first half is hugely problematic with its pacing and overly regressive storyline. The whole premise of women using unhygienic rags is setup so tactlessly that it becomes impossible to feel anything for either the women who are suffering this plight or the one man who is trying his best to change the status quo. It is only when Lakshmi is left to his own devices that the movie really picks up steam in the second half. The writing is abysmal and the epiphanies that Lakshmi experiences when his boss at the garage spouts pearls of wisdoms is too on the nose. If not for Sonam Kapoor and Akshay Kumar the movie would have fallen in the same unfulfilled promise category as Balki's previous Ki and Kaa. The music is catchy and does well to buttress the flailing script and the camera work is fantastic. Every scene is alive and vibrant. The locales of Madhya Pradesh lend a wonderful aesthetic backdrop to the rural setting lifting it out of poverty porn.
A fascinating story, a decent second half and a strong acting turn from Akshay Kumar and Sonam makes this bearable outing. Balki ought to take directing lessons from his wife Gauri Shinde who knows how to let story translate on screen organically. Also I wish Balki took a page out of Oliver Stone's book and got the real Padman deliver a final speech.