Ridley Scott direct Matt Damon and an impressive ensemble of supporting cast of Jeff Daniels, Chiwetel Ejiofor, Benedict Wong, Jessica Chastain, Kristen Wigg, Sean Bean, Donald Glover, Michael Pena, Kate Mara, Mackenzie Davis, Sebastian Stan in The Martian.
Based on the book by Andy Weir, screen writer Drew Goddard manages to keep the humor and sarcasm from the book and translates that to screen without making it sound cheesy or making light of the actual science involved. From story and screenplay point of view The Martian strikes a perfect balance of keeping the science real and still ensuring that casual moviegoers are not overwhelmed and ultimately disinterested. Comparisons calling this Apollo 13 meets Castaway aren't far off the mark.
The story sees Mark Watney and his band of Astronauts exploring the inhospitable martian terrain when a storm looms ahead and the team is forced to return to the safety of the MAV and leave as the strength of storm was underestimated. Watney gets stranded and is assumed dead as the crew unwillingly decide to leave him behind and return to Hermes to embark on the journey back home. Turns out Watney isn't dead but is left to his own devices as he tries to survive on the planet where nothing survives. Watney tries his hand at farming, foraging for the pathfinder and setting up a communication link back to earth using primitive techniques. Damon is perfectly cast as Watney as his dry humor and wry smile carry the entire movie on his shoulders. I could go on discussing the several hilarious scenarios he is faced with but it is best experienced first-hand on the big screen.
The support cast is jam packed with talented names but there are so many that they are almost callously handled. Jeff Daniels as the director of NASA phones it in, there is no undercurrent of passion that we saw him demonstrate in The Newsroom. Chiwetel Ejiofor as Vincent Kapoor also seems badly written, Sean Bean as the guy who heads the mission to mars is also underwritten and his talents of dying in every movie he stars in are also criminally wasted. Donald Glover is stereotypical Nasa nerd. Benedict Wong and Kristen Wigg do a fine enough job but could have done so much more in trying to infuse more humor than they do. The only one from the support cast who left a lasting impression was Mackenzie Davis who is the first one to report that Mark Watney might actually still be alive on Mars. Jessica Chastain as the 80s disco music obsessed but cool and detached commander is also perfectly cast.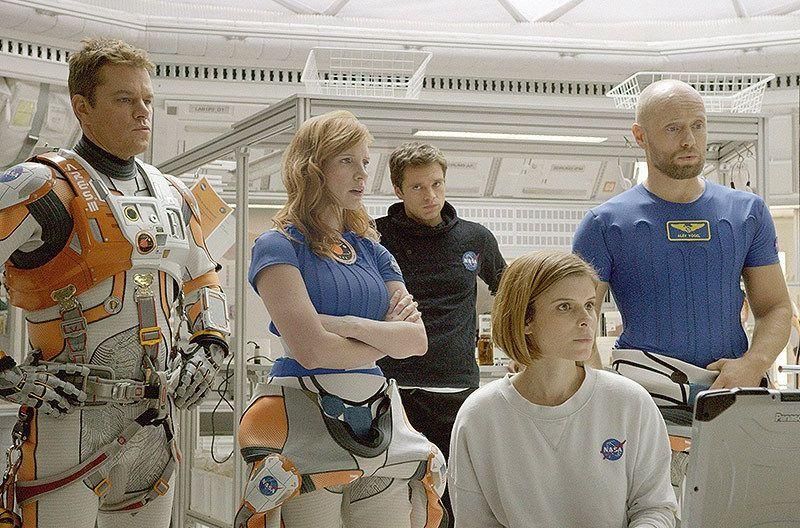 Supporting cast weakness aside, where The Martian triumphs is in its casting of Damon and his portrayal of the eternally optimistic Mark Watney who promises to "science the shit out of this" as he does everything possible to survive – I wish there was Eye of the Tiger playing in one of the scenes it would have been perfect but Hot Stuff and Fonz from Happy Days more than makes up for it. Technically the movie isn't anything ground breaking in terms of the space-y visuals but it is adequate and does the job.
The movie shines for its light hearted and tongue in cheek look at the sci-fi which more often than not takes on a far too serious a tone and nothing against it but this one works just as well. And Matt Damon is brilliant. He reminds me of Soderberg's underrated The Informant and that is a very very good thing. And the 80s music is a guilty pleasure so give me more disco any day of the week and I will be a happy bunny!