Ryan Coogler directs Chadwick Boseman, Lupita Nyong'o, Danai Gurira and Michael B Jordan in Black Panther. Black Panther first made appearance in Marvel Cineverse with the Civil Wars and sees him return to the mythical African country of Wakanda to take to the throne after the death of its king T'Chaka.
Ryan Coogler has made quite an impact with his first two movies, Fruitvale Station and Creed, both movies pushing the boundaries with furthering the African-American representation in mainstream movies. Here again he teams up with his favoured actor Michael B Jordan. In Jordan, Coogler fleshes out Erik Killmonger in such a way that despite his villainous turn, the audience ends up being invested in him. Teaming with Black actors Coogler pulls off quite a stunning feat. The movie is lush and textured, it proudly embraces the African roots of T'Challa. The myths and motifs of African culture are in every scene. The battle scenes are choreographed to the tune of war drums, the subjects of Wakanda wear the most colourful garb and tribal jewellery. All actors wear their hair natural. The importance of this cannot be overstated. What Wonder Women did to represent the women as super hero, Black Panther does that for people of colour. There are only two white actors, Andy Serkis and Martin Freeman and for once they are relegated to unimportant roles.
Chadwick Boseman as King T'Challa is regal, lithe and ferocious all qualities befitting the Black Panther. Lupita Nyong'o as Nakia, the daughter of the tribe leader and T'Challa's love interest is determined, industrious and benevolent all qualities that make a perfect queen of Wakanda. Danai Gurira as Okoye the general of the Milaje – the all women royal guard, is the stand out star of the movie for me. She is fierce in every possible way. She is a fierce warrior and she is Sasha Fierce, she flits like a butterfly and stings like a bee. Her spear handling is just as deadly as her deadpan humour. If only we can get a spin-off series for Okoye all will be well with this world. Angela Bassett as Queen mother is phenomenal and Letitia Wright as the whiz-kid princess Shuri, T'Challa's sister is to Black Panther what Q is to James Bond and then some. Michael B Jordan is the perfect Erik Killmonger. He has a heart-breaking back story and he manages to balance that with sheer evil. The scenes between him and Boseman evoke the sense of Lion King-esque déjà vu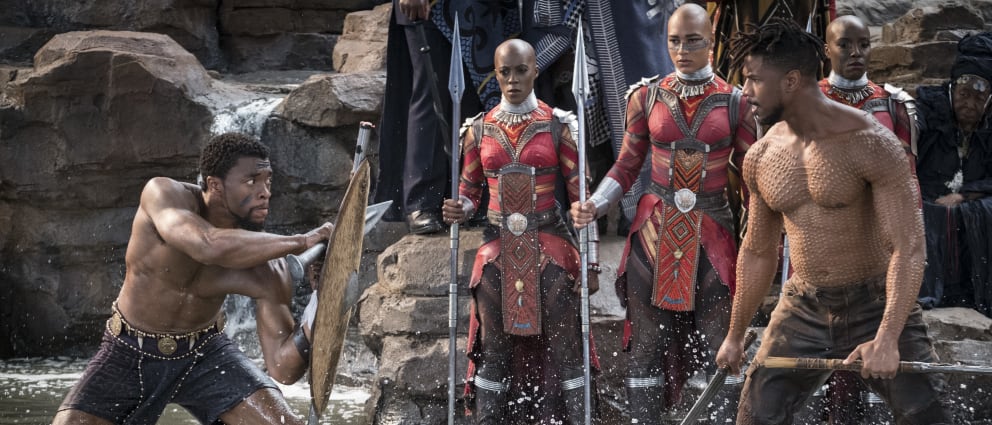 I went in hoping to be blown away by the music, the trailer promised that it would have a very urban contemporary, rap, hip-hop feel to it but the overall soundtrack pales in comparison to that used for the trailer. In parts the story loses steam, especially when setting up the origin story and there are elements that feel a bit repetitive, the multiple visits to ancestral land, the ritual combat sequences, the final combat between T'Challa and Killmonger. Also Forrest Whitaker is as over the top as you would expect him to be. But it is easily overcome with the battle over ground with Rhinos involved and Okoye kicking serious ass! The CGI, especially around the Black Panther suit is phenomenal.
While not quite on the same story telling scale as Nolan's Batman Trilogy Black Panther does manage to lend a sense of mythical epic in the marvel universe. The humour which is the hallmark of Marvel takes a back seat to a story with a heart, a heart that throbs to the drumbeats and tribal calls of Africa. A new king has indeed risen and his name is Ryan Coogler! Wakanda Forever!